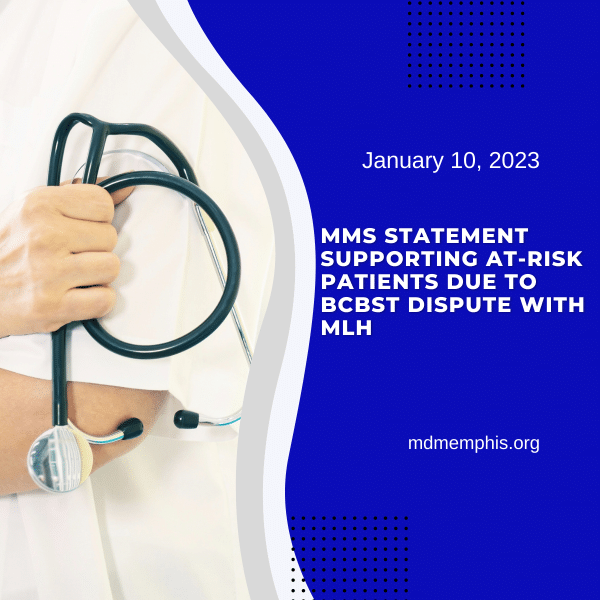 Memphis and West Tennessee patients at risk due to BlueCross BlueShield of Tennessee's dispute with Methodist Le Bonheur Healthcare
Our job as physicians is to always do what is right for our patients. We give the best care we can, and when needed, we refer them to the best specialists, surgeons, and partners we know. The decision by BlueCross BlueShield of Tennessee to no longer cover patients at Methodist Le Bonheur Healthcare in Memphis will have a detrimental impact on the healthcare outcomes for all our patients.
As the physicians of Memphis, we cannot stand idly by while our community and our patients are affected by a dispute that threatens their access to care.
Now that BlueCross BlueShield of Tennessee and Methodist Le Bonheur Healthcare have failed to reach a contract agreement, patients are being denied healthcare that they desperately need. Thousands of Memphians, many in already underserved populations, are no longer in-network with their current physician specialists, treatment facilities and hospitals, thus delaying or cancelling important medical treatment and procedures. These now out-of-network BlueCross members include those covered by TennCare, as well as those commercially insured. TennCare covers nearly 300,000 people in Shelby County, representing an underserved population often experiencing poor health outcomes due to existing barriers to care.
To understand the significant impact to healthcare access in our region, you can simply look at the list of affected facilities. This list reflects healthcare professionals, diagnostic equipment, surgery teams, and in-patient beds to which BlueCross patients no longer have access.
Methodist University Hospital—583 beds
Methodist Healthcare North Hospital—246 beds 
Methodist Healthcare Olive Branch Hospital—100 beds 
Methodist Healthcare South Hospital—156 beds  
Methodist Germantown Hospital—319 beds 
Methodist Le Bonheur Children's Hospital—255
Methodist Blood and Marrow Transplant Center
Methodist Comprehensive Breast Center—both Germantown and Midtown locations 
Wolf River Surgery Center
All Methodist Healthcare Minor Medical Centers in Cordova, Hacks Cross, Midtown Memphis, and Olive Branch
Methodist Germantown Surgery Center—includes adults and Le Bonheur pediatric patients
Methodist Alliance Home Care Services 
Methodist Alliance Hospice
Even more concerning is the lack of healthcare for our pediatric BlueCross patients. Children with BlueCross are no longer in-network at Methodist Le Bonheur Children's Hospital, one of the nation's premier pediatric facilities.
Le Bonheur offers comprehensive pediatric services and specialties that are not available in other hospitals in our region. It has a total of 255 beds with an additional 20-bed pediatric intensive care unit. The hospital is the only pediatric level 1 trauma center in our region. It also has a level 4 neonatal intensive care unit and epilepsy center. It has the only pediatric cerebral palsy clinic within 200 miles and has one of the largest pediatric surgical brain tumor programs in the region. The on-campus, outpatient center hosts 45 subspecialty clinics that treat 100,000 children each year. Unfortunately, we are already seeing reports of cancelled procedures due to families' health insurance coverage ceasing on January 1st.
How, as physicians, are we to tell a parent that their child needs services that only Le Bonheur can provide, but they can no longer go there because they are not in-network? Transferring pediatric patients to other facilities in Memphis is not a viable option. There are not enough pediatric hospital beds in our city to cover the need without Le Bonheur. This would force families to travel to Nashville and cities farther away for care. Parents should not have to worry about transporting a sick child, missing work, and arranging care for other family members when that care exists in their city.
Let BlueCross and your employer know that you are not happy with this drastic reduction in coverage. We also advise you to know your plan details. Physicians will always care for you, but we do not always know the details of your health plan's coverage.
Sincerely,
The Board of Directors of Memphis Medical Society