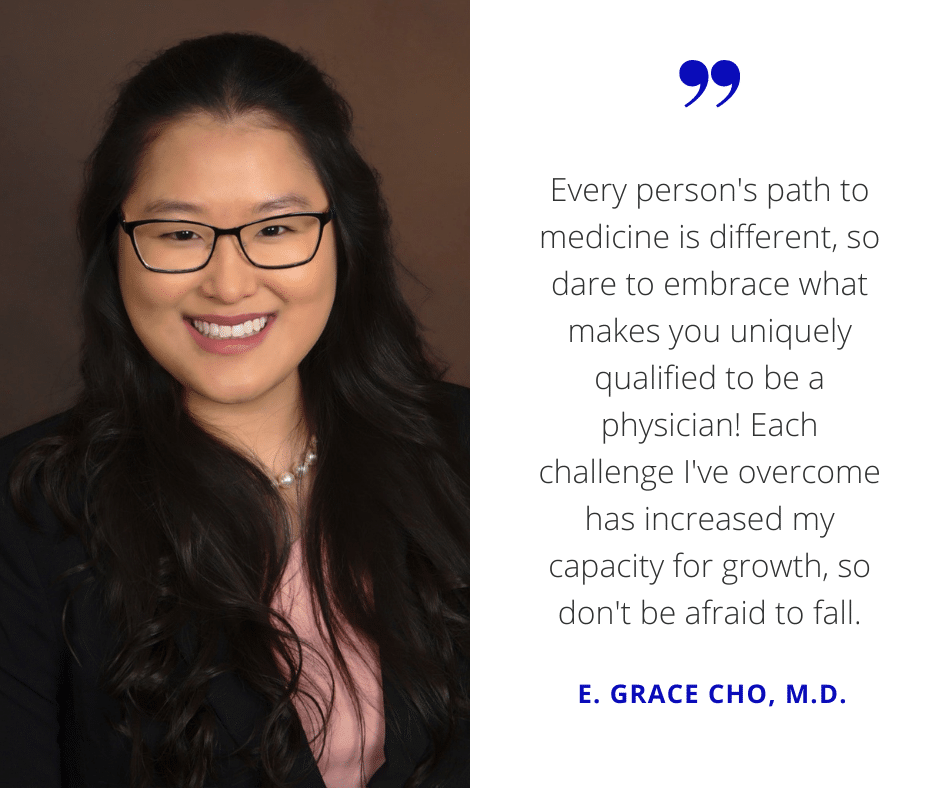 E. Grace Cho, MD plans to specialize in Psychiatry, possibly in combination with Internal Medicine. She is currently a Clinical Research Fellow at the Memphis Veterans Affairs Medical Center. Dr. Cho is an active member of many organizations, including the American Academy of Yoga and Meditation, American College of Physicians, American Psychiatric Association, American Psychoanalytic Association, Association for Academic Psychiatry, Tennessee Medical Association, The Association of Medicine and Psychiatry and the Memphis Medical Society. She serves on the MMS Board of Directors, representing physicians at various training levels, including residency and fellowship.
What drives your passion for practicing medicine?
"I grew up in a service-oriented home, which my tireless immigrant parents exemplified in their community service, philanthropy, and professional careers. I was encouraged from an early age to identify a need in my environment and to think creatively and critically about meeting it. That mindset naturally translated my love for the arts and STEM into pursuing a career in medicine, where I'm able to do both in my daily work. As a recent medical intern, I've become increasingly passionate about physician advocacy and there is certainly no lack of opportunities in this regard!"
What advice would you give to female physicians or students who are just beginning their education or careers?
"I'm a firm believer in cumulative knowledge, especially as a non-traditional medical graduate applying for further residency training. I recommend connecting with a mentor with whom you feel comfortable early on to receive practical advice and support, regarding your personal and professional interests. Having served as a peer mentor during medical school, I'm happy to connect as a sounding board!"
What would you like to share specifically for 'Women in Medicine'?
"Every person's path to medicine is different, so dare to embrace what makes you uniquely qualified to be a physician! Each challenge I've overcome has increased my capacity for growth, so don't be afraid to fall. Instead, be intentional about surrounding yourself with individuals who offer honest feedback, as well as an outstretched hand when you need to pick yourself up to try again. I am where I am today by the advocacy and investment in my education and training by female physicians who've paved the way for me, as well as other mentors."